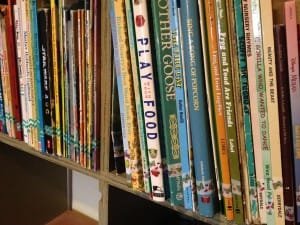 So this is simple, I divided up the books as to whose they were for and I for two different removable book tapes and labeled the spines. That way when it's clean up time they know which books are their responsibility. It has helped a great deal.
The following two tabs change content below.
Rebecca is a seamstress and crafter who loves to create fun, unique and authentic items for her kids and others. She is a stay-at-home mom with two little ones. She and her husband are sci-fi and fantasy fans with a love for books like the Lord of the Rings and obscure movies like My neighbor Tortoro. Feel free to ask her a question or leave a comment.