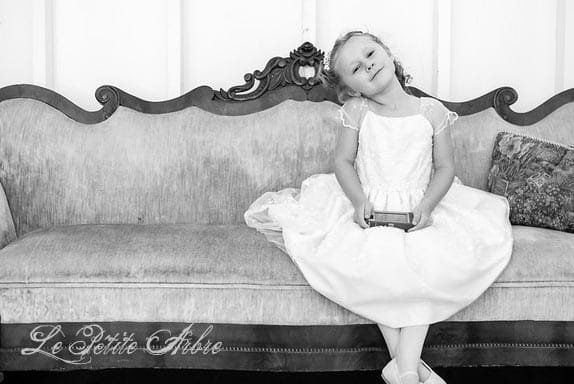 If you're anything like me, nothing in the store is good enough for you or you think that you could always design it better. Just me?
Well, our little girl was asked to be a flower girl this past Summer and I wanted her to have the perfect dress for my best friend's wedding. I first looked in the store and on Etsy for a similar style or look that would either match the brides dress (which was preferred) or our bridesmaids dress. No luck. I at least got a price range in my head about what was reasonable.
I found the perfect pattern (Vogue Sewing Pattern 7681) for my dress inspiration to match the bride. I wanted a sheer top with a beaded fade for the skirt. Of course the brides dress was hand beaded, we would settle for store bought. The dress would be ivory, that too limits my fabric choices.
I drove to two fabric stores to make sure I got the perfect fabric. I almost didn't get the beaded shear I wanted. A lady came in while I was starring at which fabric to buy, trying to make up my mind. When she swooped in and was going to buy both bolts before me. Ahhhh!! I had to beg her for the smaller one and got it. When I went to have it cut, I bit my lip when the cutting table tells me that the fabric isn't actually 40% off like I thought, gerr. But, my motto is, if you're going to make it yourself, make it out of something awesome. Plus, it was still cheaper than buying one in the store. Score.
I did all the cutting of the fabric and placed them together the way they should go. My mom helped assemble it together, because I was just  too busy working on another project. I cut out a size 5, but it still needed to come in a bit. It was heavy with all the layers. I was worried about it itching the kiddo on the shoulders, but I explained to her that all ladies suffer for fashion. She understood. Also we omitted the gathered cuff at the sleeve and used a strip of the finished lace to again look more like the brides. I used every bit of that beaded sheer. I think there was a bit left over for a Mandy Doll dress. We used a sheer elastic at the shoulder and cropped it to tea length. She did great, it looked great, and we got tons of compliments at the wedding.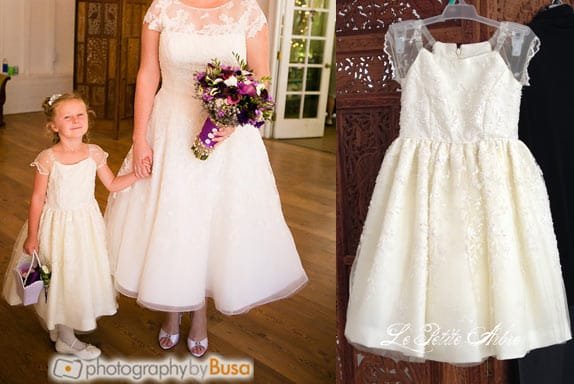 The following two tabs change content below.
Rebecca is a seamstress and crafter who loves to create fun, unique and authentic items for her kids and others. She is a stay-at-home mom with two little ones. She and her husband are sci-fi and fantasy fans with a love for books like the Lord of the Rings and obscure movies like My neighbor Tortoro. Feel free to ask her a question or leave a comment.