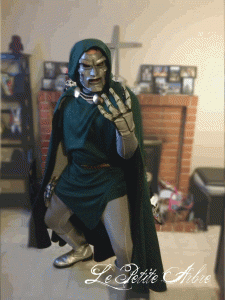 To make your own Dr. Doom costume, here are some great tips. The mask is a straight forward Dr. Doom mask ordered online. It is also available on Amazon, Ebay or other major retail stores. (When this was written not may places had one available for purchase.)
The tunic was made from 2 1/2 yards of cotton fabric folded in half then stitched lengthwise. Then cut a V shaped hole in the top. Wrapped with a 1″ – 2″ brown belt.
The shoulder pads were foam gardening knee pads that were painted silver then more bolts and spring "drawings" were added on them with a sharpie & black paint to make it more robotic. Then hot glue them onto the tunic shoulders.
The gloves were Transformers Optimus Prime gloves where a sharpie was used to black out any red or blue parts.
The cloak was bought on ebay. My Friend stitched Velcro onto the mock goldchain clasp because it just had black rope holding it on. Otherwise, you could make your own cloak using this pattern or online video patterns.
The boots were costume boots from ebay, here are some similar boots.
The leggings and shirt were grey workout spandex bought at a department store.
Let me know if this tutorial was helpful, and please share any of your pictures if you make this costume.
The following two tabs change content below.
Rebecca is a seamstress and crafter who loves to create fun, unique and authentic items for her kids and others. She is a stay-at-home mom with two little ones. She and her husband are sci-fi and fantasy fans with a love for books like the Lord of the Rings and obscure movies like My neighbor Tortoro. Feel free to ask her a question or leave a comment.