Last year I made dresses new outfits for my kiddo's Hear for hear doll. Loved it. My mother always told me stories of how she would wake up every Christmas and her porcelain doll would have a new wig and a new dress.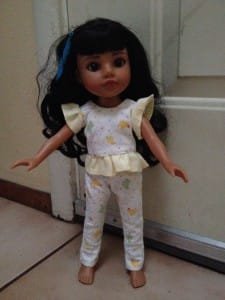 Best kind of Christmas morning. I wanted to create similar memories.
The dresses patter above are from patterns. I purchased of Etsy.
The following two tabs change content below.
Rebecca is a seamstress and crafter who loves to create fun, unique and authentic items for her kids and others. She is a stay-at-home mom with two little ones. She and her husband are sci-fi and fantasy fans with a love for books like the Lord of the Rings and obscure movies like My neighbor Tortoro. Feel free to ask her a question or leave a comment.