Our children's birthdays are 2 months apart and we have decided to (for the moment) have large joint parties for the two of them. Especially when their friends are the little brothers or big sisters of each other. One party, one time. So to start off I went to Pintrest to get ideas, I fell in love with too many things, my budget is much too small.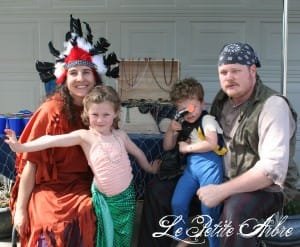 Our theme this year is a little Jake and the Neverland Pirates/Little Mermaid/Peter Pan. So searching for all these themes to get ideas. This theme is so easy, there are tons of party Pirate/Mermaid theme stuff everywhere. This website greatfun4kids has a great Peter Pan Party that has games and themes and tons of ideas that I love. Oriental Trading Company has a grip of party favors. Target also has both these themes in their party isle. I would buy a few of the two dollar sabers every time I went.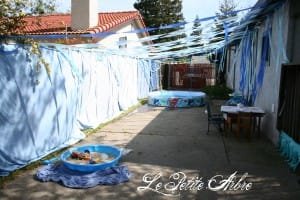 Decorations: Ice Blue Streamers, Fish net, simple black & Ice blue plates and napkins, shells, cheap necklaces, water backdrop, pool (either temp or permanent), baby pool to put sand in for treasure hunt, Water/Sand Table, bunting, home made signs. I also had a fair amount of blue sheets I stapled to the fence to make it feel more ocean like on that side of the house. Two costume buckets: Mermaids/ocean & Pirates, cool maps (either home made, printed out or harvested from your favorite video game case.) that the kids will fight over, so have a few.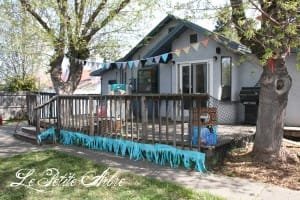 Food: My husband was in charge of food. We had the party after lunch so I told him a light snack. We had so much food. He made this cool cucumber cannon, tomato and hummus boats, fish sticks, hot dog squids, spiral pasta, cheese and apple ships, nacho cheese gold, gold fish and pretzel "nets", and of course raw veggies.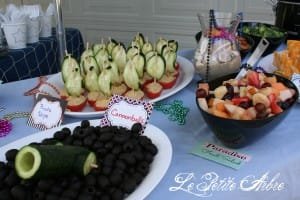 Beverages: Water, and water, and water with blue food coloring. Good thing we got cute umbrellas to go in our cups, the wind and pollen almost spoiled our outdoor buffet.
Cupcakes: I love these simple pirate coins in frosting. Works for Mermaids and Pirates. I had my sister make them. I love baking, my cupcakes are usually so yummy but delicious looking frosting is not my gift. No pretty. So outsourced it must be. They were GF and Vegan, so yummy, kids ate them up yumm, yumm. We had extras in the house without coins for the adults.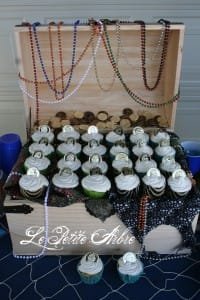 Popsicle: Ever since we started having kid birthday parties we have bought either ice cream sandwiches, Popsicle, ice pops, or other individual serving frozen desert. So simple and and still appreciated. This year we got some all fruit ones from Trader Joes, so yummy, but a bit too big for the kiddos, need smaller ones next time.
Games: Hook ring toss, pool time (if the weather is nice), Treasure hunt for goodie bags, Canon ball Toss (aka Hot Potato), Mermaids and Pirates, Ocean Limbo, (ok with the amount of kids we had, we ended up just letting them direct their own play and it was great. Especially when grandma showed up dressed awesomely as Izzy and sprinkled "pixy dust" on everyone.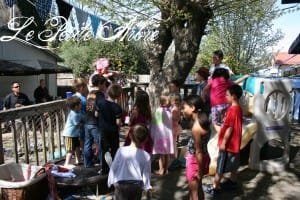 Take home Containers: home made Burlap bags, Blue and Black Pail, or Mermaid & treasure boxes. Place in a sand filled plastic pool with a sign marked with an "X" for the end of the treasure hunt. (At this kind of party you might end up with big brothers and sisters that you don't expect, have a paper lunch bag ready to put their name on with extra goodies if you don't have enough themed bags. First lesson learned)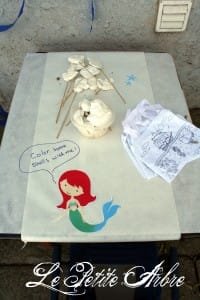 For the Mermaids: I found these glow in the dark jars So fun, but my guests are too little to have glass I bought shell necklaces for that "Izzy" pixy dust look. Bought my powder on Amazon. To do what I wanted: pre mix a small amount of the glow powder with larger part silver/light blue/and clear glitter. Almost 1:4 ratio. I squirted craft glue in the shell, used the funnel provided to sprinkle a small amount of glitter and glow dust, plugged the hole with my finger and shook. Pour out extra.  Initially I added some water to the glue to thin it out. DO NOT DO that. Use heavier duty glue to glue lids close. Mark that that they are glow in the dark and lids are not to come off. (Second lesson learned)
Shell chocolate/plaster molds, bubbles, beads and bracelet wire craft, or Starfish Bracelets, shell bracelets ready to go. Custom Mermaid tails,
For the Pirates: Pirate coins (a grip), Mustache tattoos, foam swords, Pirate tattoos, Newspaper pirate hats, Pirate chocolate & plaster molds, home made Telescopes, cheap necklace treasure, pirate eye patch.
It was a great party kids had a blast. It was easier to coordinate and plan than my other parties. There are ideas everywhere. I stole most of mine. Down side, I prepossessed a costume I already had and didn't make one this year. Result: no new costume made for Halloween. What shall I be?
The following two tabs change content below.
Rebecca is a seamstress and crafter who loves to create fun, unique and authentic items for her kids and others. She is a stay-at-home mom with two little ones. She and her husband are sci-fi and fantasy fans with a love for books like the Lord of the Rings and obscure movies like My neighbor Tortoro. Feel free to ask her a question or leave a comment.