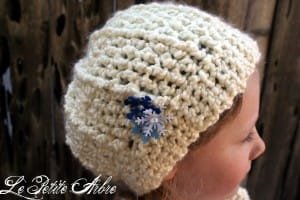 So here it is as asked for by clients and demanded  asked nicely by my daughter. My interpretation of Queen Elsa's hair in yarn as a wearable hat. The beauty of the crochet braid is the durability. I used as much yarn in this braid as my Rapunzel hat.
Click here for a link to my shop to check it out. Let me know if you think I should put more snow flakes on it. There are about 15 now all with clear ice beads plus more on the hat and braid to add that Frozen sparkle. I wanted to keep it movie accurate and in pictures she only has about 4 ice blue ones, but I added white and a few navy and two large prism ones.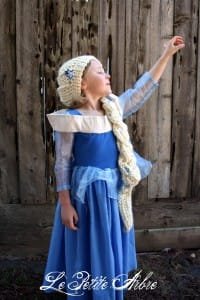 The following two tabs change content below.
Rebecca is a seamstress and crafter who loves to create fun, unique and authentic items for her kids and others. She is a stay-at-home mom with two little ones. She and her husband are sci-fi and fantasy fans with a love for books like the Lord of the Rings and obscure movies like My neighbor Tortoro. Feel free to ask her a question or leave a comment.