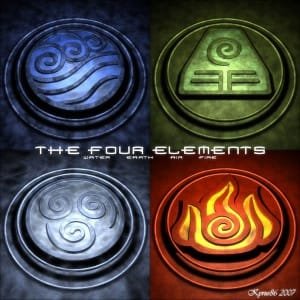 This year, for our children's birthday party theme, we decided on an Element themed birthday as an inspiration from Avatar the Last Airbender cartoon my family loves to watch. Our kids birthdays are a month and a half apart, they have the same friends if not siblings in the same family. It saves money and time to combine them together and plus they wanted the same theme. Of course it was just another excuse to make costumes.
For my two kids, I ordered the Katara and Zuko costumes from party city. I  made my own Toph costume and my husband was a random Earth Nation citizen.
We invited siblings to the party, and third siblings or cousins to tag along, cause who wants to miss an Avatar Party? We had planned for extra cupcakes and gift bags, and they were all gone by the end. So, always have extras.
We went with all the Avatar nations/elements for the party's decorations and actives. Earth, Water, Fire, and Air. Jo's Paper Kitchen made our invitations, again, they were perfect and amazing.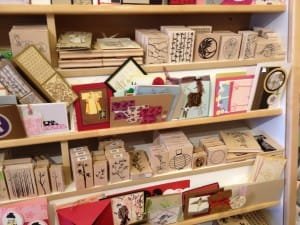 If you want to make them yourself, there are some awesome ideas at your local stamp boutique. Mine had tons of Asian themed stamps and card ideas.
For decorations we had nation colored (orange, green, blue, red, with white and black accents) bunting hanging. We hung some paper lanterns. Here are some instructions on how to make your own paper lanterns. We plugged in a bubble machine in the corner for the Air Nation.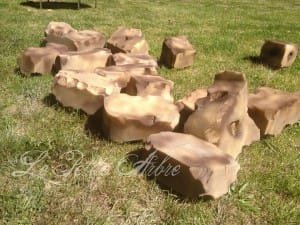 In the play area, I made nation posters for each different play area. Fire Nation had red balloons. Earth Nation had furniture-grade foam which we purchased from an upholstery shop.  These random pieces were located in their scrap bins. To get the earth shapes we hand shaped them with scissors and spray painted with beige and black. Water Nation had several sheets of ocean or water fabric. And Air Nation had white balloons. We had originally wanted red and beige foam balls for Fire Nation and Earth Nation but they did not come in the mail until a week after the party despite paying a rush delivery and the lady on the phone saying it "wasn't necessary" and they'd get here in time. (not bitter)
For games, we just had the kids "fight" or toss the "elements" at each other for 30 min while pretending to make kata moves. My husband and I took a great deal of the attack.
We also had planned for the craft to be at Sakka's Warriors table where the kids could color these Boomerangs from Oriental Trading Company. Unfortunately, despite great effort, they did not come in our package from the vendor. Super bummer.
For the banquette spread I wanted a cart of Cabbages (those who love the series would agree). But then what would I do with them all afterward? We had all themed food, I made Element labels describing from what nation they came from.
Menu Included:
Fire– Roasted Potatos, Salsa, Nacho Cheese
Earth– Chips,
Air– Raw Veggies, and dip
Water– Beverages
We found a local piñata maker "Abby's Piñata" to make a "Melon Lord" piñata for us. It was no more cost than a regular piñata from any store and it was perfect. We filled it with age appropriate candy. They each had their Chinese take out boxes to collect the goodies for when the Melon Lord was defeated.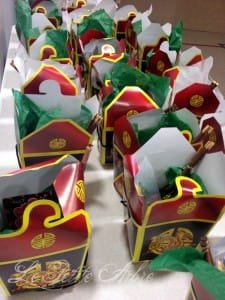 For party favors, we ordered these  Chinese New Year themed take out boxes. They looked just like Fire Nation with red and black and a dragon on them. Plus, they were on sale for less than plain white. We pre-filled them with a package of pop rocks, air heads, fire balls and salt water taffy. We also included a dragon glider and some decorative chop sticks.
Cupcakes are always a big hit and so easy to distribute. Naturally, we decorated the cupcakes with each of the four Nations logos. I thought I could cut the logos out as a stencil and use colored sprinkles but they turned out very sloppy around the edges. We ate those for quality assurance and decided they were not party worthy (mmm… so delicious). So, I had to go with gel frosting in a tube and drew each one by hand. Of course, there is this awesome cake I saw online that would have also been perfect. However, I am a cupcake maker and eater.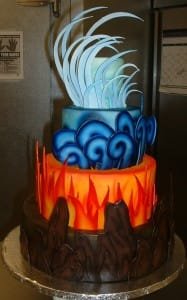 For gift opening we divided the kids up, boys and girls. We then had both kids open their gifts at the same time.
It was simple, fun and a frugal birthday party. Hoot!
The following two tabs change content below.
Rebecca is a seamstress and crafter who loves to create fun, unique and authentic items for her kids and others. She is a stay-at-home mom with two little ones. She and her husband are sci-fi and fantasy fans with a love for books like the Lord of the Rings and obscure movies like My neighbor Tortoro. Feel free to ask her a question or leave a comment.