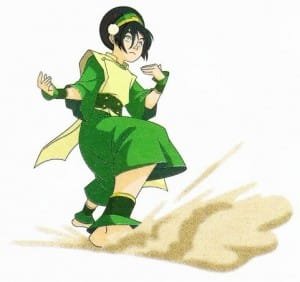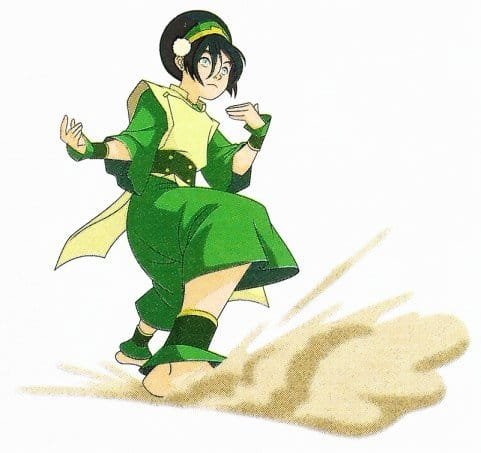 For our kids birthday this year we made an Avatar the last Airbender party.
Of course we all had to be costumed. I decided to be Toph, Aang's Earth bending teacher, AKA: the "Blind Bandit," AKA: Melon Lord, AKA: The Runaway.
It is a simple costume I'd been thinking about for a long time. Great things about my kids themed birthdays in Spring, is that I get my Halloween costumes done early.
I started with a medical scrub (top and bottom) of the appropriate color. Then cropped the pants to just below the knees. SAVE the trimmings for ankle and wrist details.
Cut the half from each leg so the shorts are below the knee. Save the trimming for the wrist and the bottom for the ankles. There seemed to be a stitch mark at just the right place to cut. Both are made in the same manor. Cut 2 strips of black vinyl 1″ and 13″ wide yellow ribbon of equal length and the same at 1″ by 9″ for each wrist. Sew them together. Sew Velcro at each end, one on top the other on the underside, so when warped around your wrist and ankle they are tight and don't show underneath. Gather the wrist and leg portions enough that they are big enough to go over your hand or foot.
Next make the simple "tunic" by starting with 1 yard or 2 yards (if you double it up like I did) of cream textured fabric finished on the sides. It should hang to about mid thigh front and back. Mine was a bit narrower than I'd like, but it's what I had in my closet. Attach the front to the left of the back and the small right panel to the back panel.
Attach a Mandarin collar to the middle section.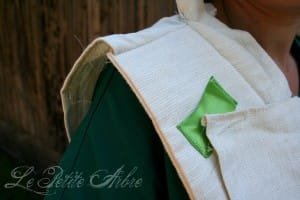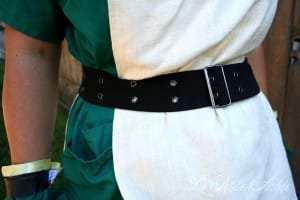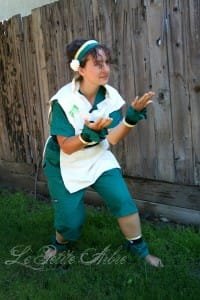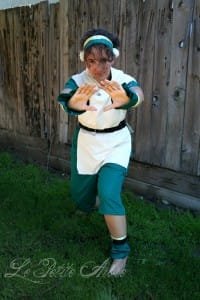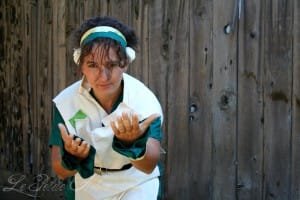 Looking at the cartoon images of the wrap and fastener at the shoulder I decided on Velcro and a section of wide green satin ribbon stitched down (cut ends then folded under).
Bought my black belt at the thrift store, it has eyelets instead of studs. Either I think works,  you could adapt your own here.
Headband is 19″ in length of same wide satin ribbon stitched to a notched green (more left over from the pant legs, I'm short, OK) strip. Stitch a 2.5″-3″ section of elastic to both ends. Mark where to attach the poms, just behind your ears. I made large yarn poms, but these would be more fun. For the hair, I just puffed and pinned, thinking for Halloween I'm going to cheat and get a hair snap thing, instructional video here.
Please FB post me some of your costume successes based on my tutorial.
The following two tabs change content below.
Rebecca is a seamstress and crafter who loves to create fun, unique and authentic items for her kids and others. She is a stay-at-home mom with two little ones. She and her husband are sci-fi and fantasy fans with a love for books like the Lord of the Rings and obscure movies like My neighbor Tortoro. Feel free to ask her a question or leave a comment.