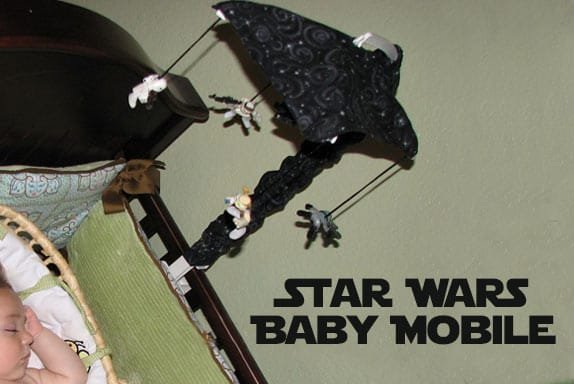 Someone said to me once, "Why wasn't there a Star Wars mobile?" So, I decided to put one together.
I up-cycled a mobile from the thrift store, and bought a variety pack of star wars figures. I had my handy husband drill tiny holes into the toys so they could by tied with string to the mobile. They would also still be able to be played with later.
Anyone ever see another Star Wars Mobile? I'd love to see it. Leave a link in the comments or post it on
my facebook page
.
The following two tabs change content below.
Rebecca is a seamstress and crafter who loves to create fun, unique and authentic items for her kids and others. She is a stay-at-home mom with two little ones. She and her husband are sci-fi and fantasy fans with a love for books like the Lord of the Rings and obscure movies like My neighbor Tortoro. Feel free to ask her a question or leave a comment.