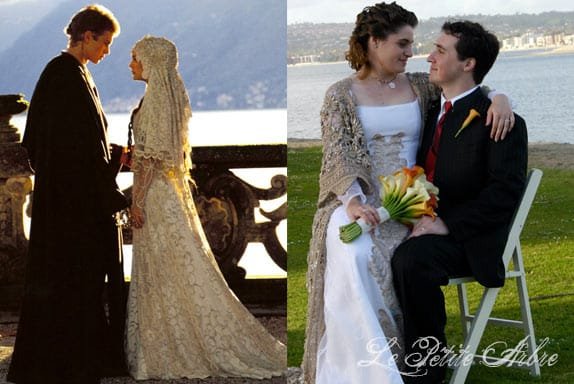 This wedding dress is inspired by the Padme wedding dress in Star Wars Episode 3.  My brother is a huge Star Wars fan (actually, my whole family is) and they had various elements in their wedding that were Star Wars inspired, for instance, the Padme wedding dress.
For the dress, I started with a McCalls Pattern 2861 as the base for the wedding dress. Once I had the basic dress finished, I cut and sewed three tea-dyed appliques down the front, on the sides and back panels. I doubled up with a layer of sheer fabric that had a pretty vine design on it to add some more elegance.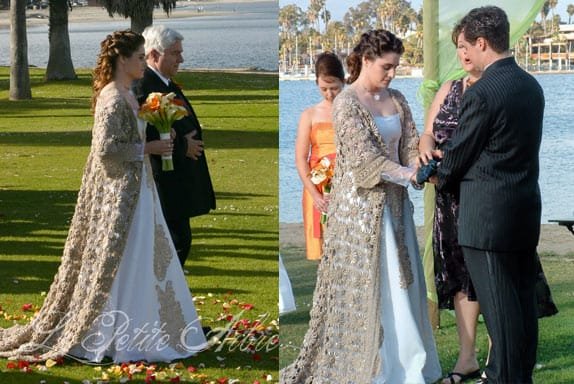 For the overcoat, I decided to use an afghan to give it the hand-sewn, vintage look, similar to the original dress. I found this one on ebay. I then carefully cut and re-sewed it together to make a long drappy coat.  I used the same sheer fabric that I used on the dress and made sleeves and sewed them to the inside of the coat. This gave it a more elegant look and less like an afghan.
The ceremony was on a windy day in March and her dress was the only thing that wasn't blowing all over the place.  The bride said it was very comfortable and kept her warmer than her bridesmaids. The guests who were not familiar with the movies just thought it was vintage, which is cool too.
The following two tabs change content below.
Rebecca is a seamstress and crafter who loves to create fun, unique and authentic items for her kids and others. She is a stay-at-home mom with two little ones. She and her husband are sci-fi and fantasy fans with a love for books like the Lord of the Rings and obscure movies like My neighbor Tortoro. Feel free to ask her a question or leave a comment.